Posts for tag: smile makeover
By Colesville Dentistry
June 16, 2019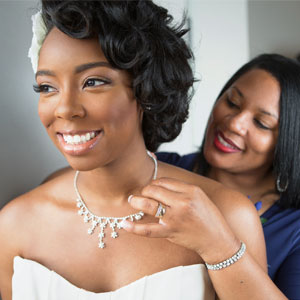 Since the early Roman times, couples have prized the month of June as the most favorable time to exchange their marriage vows. If you and your betrothed are planning a June wedding this season, you no doubt want everything to be beautiful. That would include your smile—and with the appropriate techniques we can help you make it as bright and attractive as possible.
Here are 5 ways to a more attractive wedding day smile.
Dental Cleaning and Teeth Whitening. A routine dental cleaning right before the ceremony can remove stains and dental plaque that dull your teeth's appearance. For an added level of brightness, we can also whiten your teeth in time for your big day.
Repairing defects with bonding. Do you have a chipped tooth, or a broken or discolored filling? We may be able to repair minor defects like these in a single visit by bonding lifelike dental materials directly to the tooth. We color-match and sculpt these materials so that they blend seamlessly with your natural teeth.
Advanced enhancements. In whatever ways your teeth may be flawed, there are dental solutions to transform your smile. We can correct minor to moderate chips, stains or slight gaps with porcelain veneers that cover the teeth's visible surface. We can cap a viable but unsightly tooth with a life-like crown. Missing teeth? A fixed bridge or dental implants could restore them like new.
Plastic gum surgery. Teeth may be the stars of your smile, but your gums are the supporting cast. Smiles with too much of the gums showing can be corrected through various techniques, including periodontal plastic surgery that reshapes the gums and can help the teeth appear more prominent.
Orthodontics. The original "smile transformer," braces and other orthodontic methods move misaligned teeth to better positions. Not only can orthodontic treatment result in a more attractive appearance, it can improve overall dental health.
You have an array of options for enhancing your wedding day smile, and we're more than happy to help you develop an individualized treatment plan. One caveat, though: some of these techniques could take weeks or months to complete, so don't delay!
If you would like more information about what you can do to have the most attractive smile for your wedding day, please contact us or schedule an appointment for a consultation. To learn more, read the Dear Doctor magazine articles "Beautiful Smiles by Design" and "Planning Your Wedding Day Smile."
By Colesville Dentistry
August 06, 2013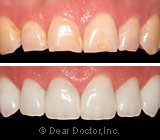 There are a number of materials and techniques available in cosmetic dentistry that help us improve our patients' smiles. Porcelain veneers stand out as one of the most popular and least interventional of these options.
As the name implies, a veneer is a thin layer of dental restorative material that covers the original tooth surface. Veneers don't require an extensive amount of tooth preparation or removal of sound tooth structure, as with a crown or bridge.
Veneers are made of dental porcelain, a material compatible with living tissue and with a very life-like appearance. The dentist as artist can fashion the porcelain to precisely imitate an individual's natural teeth, including the natural color and hue of surrounding teeth.
Are porcelain veneers an option for you? Only a smile analysis in our office can determine that. Your teeth must be in a somewhat normal position. The teeth in question must have a sufficient amount of remaining tooth structure to support veneers. And you must have symmetrical gum contours that will allow for proper framing of the teeth, which will enhance the final cosmetic result.
If your current dental health meets these criteria, then porcelain veneers could help correct spaces between teeth that aren't too wide, improve poor color, or address poor shape, contours or minor bite problems. Veneers, however, do have their limitations. They aren't effective if you have poor tooth position, if the root positions are widely out of line, or if you have a poor profile. Some form of orthodontics may be needed initially for these situations.
That being said, porcelain veneers are an excellent long-term option in the right situation. Depending on your individual circumstance and how you care for your teeth, a veneer application can last for several years, or if they come loose or become chipped they can be repaired in most cases. The material is strong enough to withstand normal pressures exerted during chewing or biting, as long as you avoid activities like opening nutshells with your teeth or chewing on very hard candy.
Overall, porcelain veneers can give your smile a whole new look with little impact on your remaining tooth structure.
If you would like more information on porcelain veneers, please contact us or schedule an appointment for a consultation. You can also learn more about this topic by reading the Dear Doctor magazine article "Smile Design Enhanced With Porcelain Veneers."