Posts for tag: dental implant
By Colesville Dentistry
July 20, 2020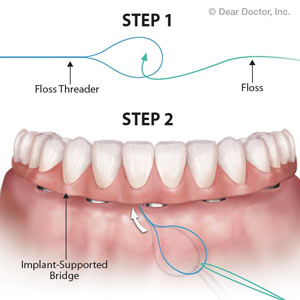 Losing your teeth can be a traumatic experience with serious consequences for your overall health. Fortunately, you have great options for replacing lost teeth that can restore both appearance and dental function.
One such option is a fixed bridge supported by dental implants. While implants are best known for single tooth replacement, they can also be used with other restorations like bridges. In this case, the bridge is screwed into a few well-placed implants to support it.
Implants can provide bridges with more security and support, and without the need to alter adjacent teeth that are commonly used for traditional tooth replacement. They may also slow or stop bone loss because the titanium in implants naturally attracts bone cells that grow and adhere to its surface and provide stimulation to the bone cells during function.
Because of these benefits an implant-supported bridge could be a life-changer that provides years of satisfaction. But we can't simply "set them and forget them": They require dedicated oral hygiene just like natural teeth.
While the bridge materials and implants themselves are in no danger from disease, the same can't be said for the implant's supporting gums and bone. Dental plaque, the main driver in gum disease, can place these tissues at risk for infection that could eventually lead to implant failure.
It's important, then, for you to floss around your new implants to remove any plaque. This differs from regular flossing in which you work the thread between teeth. Instead, you'll have to maneuver the floss between the bridge and gums with the help of a floss threader, a small slender tool with a loop at one end and a stiffer plastic edge at the other (similar to a sewing needle).
To use it, first run 18" of floss through the loop until you get equal lengths and then work the tail of the floss threader between the bridge and gums while holding one end of the floss. Once through, you pull the floss threader through so that the floss is on either side of the bridge. Then grab each end of the floss and pull it snug to floss up and down one side of the implant. Go to the next side and repeat this procedure for all the implants.
As an alternative, you could use an oral irrigator, which emits a pulsating spray of water to loosen and wash away plaque. Either way, though, it's important to floss around implants to get the most life out of your bridge.
If you would like more information on proper care for implant-supported restorations, please contact us or schedule an appointment for a consultation. You can also learn more about this topic by reading the Dear Doctor magazine article "Oral Hygiene for Fixed Bridgework."
By Colesville Dentistry
May 08, 2020
In the United States, an estimated 3 million people have dental implants, a number that is growing by 500,000 annually. Because dental implants bond with natural bone and effectively support replacement teeth, they are the perfect solution to fill in the empty space left by a missing tooth. However, to ensure a long and healthy implant lifespan, it is crucial that you properly care for dental implants and have a professional regularly check them. Here at Colesville Dentistry in Silver Spring, MD, Dr. Gregory Hysong and Dr. Lynda LePore are here to help you clean and inspect your teeth and implants.
Dental implants are surgically placed into your jawbone
After the implant has been positioned in your mouth, it fuses with the bone over several months, acting as the root of the missing tooth. An artificial tooth, a permanent bridge, or a denture can then be attached to the implant.
Right after implant surgery
Rest
Apply ice if needed
Don't disturb the surgical areas
Rinse with salt water daily
Eat soft foods and nutrient-rich drinks and foods
Brush your teeth with a soft toothbrush
Schedule regular post-operative appointments with a dentist at our Silver Spring office
Ongoing implant care
Use a soft-bristled toothbrush.
Brush at least twice a day to remove food debris and bacteria.
Brush under and around the dental implant crown using an angled-neck toothbrush or an interdental brush with a slim head.
Use toothpaste without abrasive ingredients, bleach, or chlorine-based solutions since these might damage or discolor the implants.
Use a water flosser or dental water jet. They clean hard-to-reach areas more effectively.
Eat a healthy diet and stop smoking. Smoking can weaken and inflame the gums, and can stain the crowns.
If you grind your teeth, seek treatment right away. Teeth grinding can put excess pressure on your implant and cause damage.
Prioritize proper oral care
Here at Colesville Dentistry in Silver Spring, MD, we perform regular dental checkups and professional cleanings to confirm that your implants are functioning properly and that you are maintaining good oral health. Contact us at (301) 384-6000 for appointment information.
By Colesville Dentistry
August 01, 2014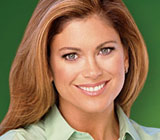 It is not often that you find a celebrity who is willing to speak candidly about any cosmetic or restorative dentistry that he or she has had. Instead, most prefer that their fans just assume that their dazzling "Hollywood" smile is something that just happened naturally. However, that is not the case with Kathy Ireland, the former Sports Illustrated cover girl, current business mogul and founder of kathy ireland Worldwide, a billion dollar marketing and design firm. In a Dear Doctor magazine cover story she talks openly about her dental experiences, injuries and treatment so that people worldwide can understand what may be possible for them.
For Kathy, it happened several years ago when she was playing with her husband and children in their driveway. Kathy decided that she would stand in her children's wagon and surf across their driveway. Instead, she ended up "face-planting," as she describes it, in a freak accident that left her with a broken nose, split forehead and several broken teeth. She recalls that it sounded like a watermelon had smashed. Luckily, her husband, an emergency room physician, was on hand to care for her. Kathy is just as thankful to her cosmetic and restorative dentist who restored her trademark smile with some veneers and a dental implant. Today, the only reminder she has from this accident is a small scar on her nose that she covers with a little makeup.
You would think that this accident would be enough trauma for one person; however, Kathy describes an earlier accident where she knocked out a tooth and then later knocked it loose again. Kathy also wanted to take the time to let readers know that her dental implant experiences were "pretty easy." She did recall, "hearing all the sounds while all of it was going on" and then added, "but I have to tell you, that after being a mom and having kids, going to the dentist...is like going to the spa!" She said that she has even fallen asleep in the dental chair.
To learn more about Kathy Ireland, continue reading the Dear Doctor magazine article "Kathy Ireland." Or if you think cosmetic or restorative dentistry is right for you, contact us today to schedule an appointment to discuss your specific goals.