Posts for: September, 2020
By Colesville Dentistry
September 18, 2020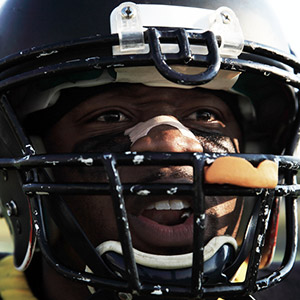 It's September—and that means football season is underway. Whether you're playing, spectating or managing a fantasy team, the action is about to ramp up. Unfortunately, increased "action" also includes injury risk, especially for a player's teeth, mouth and jaws.
Injury prevention is a top priority for all players, whether the pros or the little guys in Pee Wee league. For oral injuries, the single best way to avoid them is by wearing an athletic mouthguard. This soft but durable plastic appliance helps cushion the force of a direct blow to the face or mouth. Wearing one can help prevent tooth and gum damage, as well as lessen the risk for jaw or facial bone fractures.
Mouthguard use is fairly straightforward—a player should wear one anytime there's player-to-player contact. That's not only during game time, but also during practice and informal play. But what's not always straightforward is which type of mouthguard to purchase. That's right: You'll have to decide from among a variety of mouthguards on the market.
Actually, though, most fall into one of two categories: the "Boil and Bite" found in most retail stores with a sports gear department; or the custom mouthguard fashioned by a dentist.
The first are called Boil and Bite because the mouthguard must first be softened with hot water and then placed in the intended wearer's mouth to bite down on in its softened state. When the mouthguard cools and re-hardens, it will retain the bite impression to give it somewhat of an individual fit. These retail guards are relatively inexpensive and reasonably effective in cushioning hard contact, but they can also be on the bulky side and uncomfortable to wear.
In contrast, custom mouthguards are formed from an accurate impression of the wearer's bite taken in the dental office. Because of the individualized fit, we can create a guard with less bulk, greater comfort and, due to their precision, better effectiveness in preventing injury.
A custom guard is more expensive than a retail mouthguard, and younger players may need a new upgrade after a few seasons to accommodate fit changes due to jaw development. But even so, with its higher level of protection and comfort (making it more likely to be worn during play), a custom mouthguard is a worthwhile investment that costs far less than a devastating dental injury.
So, if you or a family member will be hitting the gridiron this fall (or, for that matter, the basketball court or baseball diamond later in the year), be sure you invest in a mouthguard. It's a wise way to ensure this football season will be a happy one.
If you would like more information about dental safety and sports, please contact us or schedule a consultation. To learn more, read the Dear Doctor magazine article "Athletic Mouthguards."
By Colesville Dentistry
September 08, 2020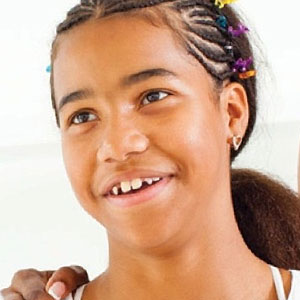 On the way to adulthood, permanent teeth steadily erupt until, if all goes normally, you have a full set of teeth. Sometimes, though, one or more teeth may fail to form. This not only can affect your dental health, but it could also diminish your smile.
For example, if the lateral incisors on either side of the central incisors (the two teeth front and center) don't develop, it could create a smile that's "not quite right." But we can vastly improve such a smile in one of three unique ways.
The first is to fill the resulting gap through canine substitution. This is an orthodontic method in which we use braces to move the pointed canine teeth, which normally position on the other side of the missing laterals, closer to the central incisors. This choice is determined by the size of the canine teeth. If they are slim in width, they can be re-shaped to make them appear more like a lateral incisor, and the gums possibly reshaped as well around them through cosmetic surgery.
We can also install a dental bridge, an appliance that fills the missing lateral space with prosthetic teeth. A traditional bridge requires the teeth on either side of the gap to be reduced in size, which becomes a permanent alteration to accommodate these crowns. This is a disadvantage in a young person.  We can also use a "bonded bridge" which uses adhesives to attach extended pieces (or "wings") of dental material from either side of the prosthetic tooth to one or more supporting teeth.  These wings are behind the permanent teeth.  Though not as durable as a traditional bridge, it does avoid altering the support teeth.
Finally, we can replace the missing teeth with dental implants. In this method, we install titanium metal posts into the jawbone at the missing tooth locations and then attach a life-like crown to each one. Implants may be more costly than other restorative methods and can take several months to complete. But they are life-like, highly durable, and don't require any alteration to other teeth. A disadvantage is that you should wait until at least 19 years of age to consider this option.  What many people do is use a temporary solution until the proper age to do a dental implant.
Each of these methods have their advantages and disadvantages, which should be thoroughly reviewed in consultation with your dentist. And each may also require other dental work, such as initial orthodontics to open adequate space for a restoration. But any of these methods for correcting a missing lateral tooth can be effective and help restore both a healthier mouth and a more attractive smile.
If you would like more information on treating congenital dental defects, please contact us or schedule an appointment for a consultation. You can also learn more about this topic by reading the Dear Doctor magazine article "When Permanent Teeth Don't Grow."