Posts for: October, 2014
By Colesville Dentistry
October 27, 2014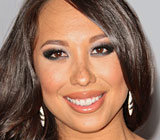 If you've ever watched Dancing with the Stars on television, you've no doubt noticed the vivacious and talented Cheryl Burke, whose ballroom dance moves are as captivating as her bright smile. In fact, Cheryl considers her smile to be one of her most important assets as a professional dancer.
"As a performer, you're basically smiling the whole time," Cheryl told Dear Doctor magazine recently in an exclusive interview. "It's just really important to take care of your teeth and have a great smile."
Cheryl is very conscientious about caring for her smile, but that wasn't always the case. In the Dear Doctor interview, Cheryl revealed that her teeth suffered from ineffective oral hygiene when she was younger. "I definitely had my share of cavities," Cheryl recalled, adding that she believed this was her own fault. "I didn't use floss," She explained. "I think when you do floss frequently, it helps to reduce the chances of getting cavities. It took me a while to figure it out."
Once Cheryl did figure it out, she was able to make cavities a thing of the past. But in order to make sure the effects of her prior tooth decay did not mar her lovely smile, she made sure her dentist — who is also her stepdad! — gave her tooth-colored fillings that could not be distinguished from the surface of a natural tooth. "It's important for me," Cheryl said.
Lots of dental patients feel the same way, even if they don't spend time in front of television cameras. That's why the dental profession has developed tooth-like materials such as composite resins and porcelains that mimic natural tooth material exactly. These materials are also suitable for children's teeth and can incorporate fluoride to reduce tooth decay. It's even possible to replace old silver-colored fillings with these newer dental materials.
If you would like to learn more about tooth-colored fillings, please contact us to schedule an appointment for a consultation. To read Dear Doctor's entire interview with Cheryl Burke, please see "Cheryl Burke." Dear Doctor also has more on "The Natural Beauty of Tooth-Colored Fillings."
By Colesville Dentistry
October 09, 2014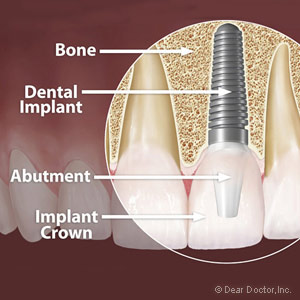 Dental implants are considered the premier option for tooth replacement. While all implant procedures follow the same general concept — a titanium post surgically inserted into the jawbone with an attached life-like crown — the installation process can vary.
From their earliest history, implants have usually been installed through a two-stage process. In the first stage, the surgeon inserts the titanium post in the bone and leaves it "submerged" below the gum level to protect it from oral bacteria and the effects of chewing and biting. About three months later after the bone attaches to the titanium (a process called osseointegration), the surgeon then performs the second stage by re-exposing the implant and attaching a temporary abutment and crown for the patient to wear while the permanent abutment and crown are fabricated and later attached in 2-6 weeks.
In recent years, advancements in materials and design have made possible a one-stage process that allows the implant to protrude above the gum line during osseointegration and shortens the process. After the initial three-month healing period, the implant is ready for "loading" with the permanent crown.
The choice between which of these two procedures should be used for your implants will first depend on the type of tooth being replaced. A front tooth benefits from the one-stage procedure for cosmetic reasons because the surgeon can install a temporary crown to the exposed abutment during osseointegration (as long as the temporary tooth isn't in functional contact with other teeth). An implant for a back tooth, on the other hand, doesn't have a large cosmetic demand so those one stage procedures usually end up with an exposed healing abutment but no temporary crown.
The strength of the bone is also a factor. Some bone tends to be softer, particularly in the back of the mouth. There's a chance the implant could move in this softer bone, adversely affecting the outcome. For this reason, the two-stage procedure can be the preferred approach for posterior teeth as it offers more protection from movement.
You can be sure we'll consider all these and other factors during your initial examination, and then advise you on the best approach. Above all, we want to make sure — whether a one-stage or a two-stage implant process — the result is a smile you can be proud of.
If you would like more information on dental implants, please contact us or schedule an appointment for a consultation. You can also learn more about this topic by reading the Dear Doctor magazine article "Staging Surgery in Implant Dentistry."