Posts for: August, 2013
By Colesville Dentistry
August 21, 2013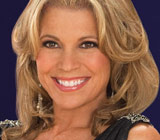 Everyone knows Vanna White as the elegant co-host of the popular game show Wheel of Fortune. But here's one thing you may not know: White is listed in the Guinness Book of World Records as television's most frequent clapper, with an average of 720 claps per show — that's over 28,000 per season! And here's something else: the star with the megawatt smile wore braces as a kid, and she's not too shy to talk about it.
"I only had to wear them for a year and it was a good experience for me," she told an interviewer for Dear Doctor magazine. But when it was time for her son to get them, White noticed something different. "We used to have those silver bands that went all the way around each tooth, and they don't have that anymore. It is fascinating to see how far they have come."
We're glad she noticed! In fact, orthodontic appliances have advanced a good deal in the past decade or so. Instead of using metal bands, brackets holding the wire part of braces are now typically attached directly to the teeth with a dental adhesive. For an even less obtrusive look, ask about using colorless brackets instead of metal ones — that way, the only part that's clearly visible is the thin wire itself. And in some situations, braces can be placed on the lingual (tongue) side of the teeth, making them all but invisible.
Another type of nearly invisible appliance is the clear orthodontic aligner. The aligner system consists of a series of precision-made transparent "trays" that fit over the teeth. Each tray is worn for a few weeks, and each moves your teeth by a small amount; together, they can help correct mild to moderate orthodontic problems. And the best part — they're really hard to notice! That makes them perfect for both adults concerned about a "professional" look, and image-conscious teens.
So if you're a TV star — or if you'd just like to have a brighter and better smile — it's never too late to get started! If you would like more information about orthodontics, please contact us for a consultation. You can learn more in the Dear Doctor magazine articles "The Magic of Orthodontics" and "Clear Orthodontic Aligners."
By Colesville Dentistry
August 06, 2013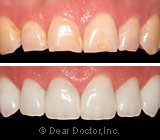 There are a number of materials and techniques available in cosmetic dentistry that help us improve our patients' smiles. Porcelain veneers stand out as one of the most popular and least interventional of these options.
As the name implies, a veneer is a thin layer of dental restorative material that covers the original tooth surface. Veneers don't require an extensive amount of tooth preparation or removal of sound tooth structure, as with a crown or bridge.
Veneers are made of dental porcelain, a material compatible with living tissue and with a very life-like appearance. The dentist as artist can fashion the porcelain to precisely imitate an individual's natural teeth, including the natural color and hue of surrounding teeth.
Are porcelain veneers an option for you? Only a smile analysis in our office can determine that. Your teeth must be in a somewhat normal position. The teeth in question must have a sufficient amount of remaining tooth structure to support veneers. And you must have symmetrical gum contours that will allow for proper framing of the teeth, which will enhance the final cosmetic result.
If your current dental health meets these criteria, then porcelain veneers could help correct spaces between teeth that aren't too wide, improve poor color, or address poor shape, contours or minor bite problems. Veneers, however, do have their limitations. They aren't effective if you have poor tooth position, if the root positions are widely out of line, or if you have a poor profile. Some form of orthodontics may be needed initially for these situations.
That being said, porcelain veneers are an excellent long-term option in the right situation. Depending on your individual circumstance and how you care for your teeth, a veneer application can last for several years, or if they come loose or become chipped they can be repaired in most cases. The material is strong enough to withstand normal pressures exerted during chewing or biting, as long as you avoid activities like opening nutshells with your teeth or chewing on very hard candy.
Overall, porcelain veneers can give your smile a whole new look with little impact on your remaining tooth structure.
If you would like more information on porcelain veneers, please contact us or schedule an appointment for a consultation. You can also learn more about this topic by reading the Dear Doctor magazine article "Smile Design Enhanced With Porcelain Veneers."